In this application note, viscosity data for Bovine Gamma Globulin (BgG) formulations over the full concentration range, including therapeutic levels ≥ 100 mg/mL, was obtained using the VROC® Initium. The solution buffer included sucrose which is a common additive to enhance stabilization during freeze-drying and storage. Relative viscosity versus concentration curves were fit with the Ross-Minton equation which is a frequently used analysis tool for protein formulations.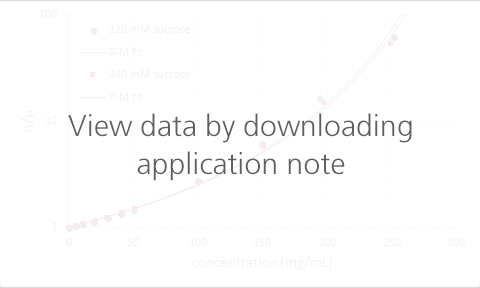 Bovine Gamma Globulin solutions were prepared using phosphate buffered saline with two levels of sucrose added. The viscosity was measured over a broad range of Bovine Gamma Globulin concentrations at...
————————————————————————————
Submit form to access full application note.
Key Words:
Viscosity
Concentrated Protein Solution
Bovine Gamma Globulin
Sucrose
Ross-Minton Equation